Finding life's meaning in charitable medicine

San Diego County health professionals provide free care at home and overseas
Doctors, nurses, others thankful for chance to provide a wide range of care at no cost.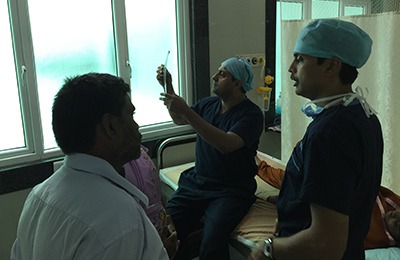 Dr. Harish Hosalkar doesn't like to use the phrase "charitable medicine."
Maybe it's because he views the free surgeries he provides in India as a privilege — not a grand gesture or an obligation – to help resilient patients who lack money, access to quality medical care or both.
Possibly it's because he sees his fellowship program, which gives complimentary training to young doctors from various countries, as reciprocity for the instruction and mentoring he received from his own teachers.
Perhaps it's because his work fulfills a dream, a goal, a love he's had since age 7, when he first wanted to become an orthopedic surgeon.
"Call it God or fate or destiny. I'm fortunate to have skills that help change a person's life by making them functional again," said Hosalkar, who runs an orthopedic practice and performs most his operations at Paradise Valley Hospital in National City, Scripps Mercy Hospital in Hillcrest and Tri-City Medical Center in Oceanside.
His dream resulted from a strategy of fusing two key influences: that of his father, a civil engineer, and that of his physician aunts and uncles.
"My mind became interested in putting things together like an engineer would, but my heart was in medicine, which has its potential of making things whole again. I decided that orthopedics would be the right combination of those things," he recalled.
He completed his medical school education in India at age 20, obtained his medical degree at 22 and became an orthopedic surgeon at 26.
From the outset of his medical education, he felt compelled to use his expanding knowledge to aid people in India's villages and slums. He volunteered at camps for children with polio and cerebral palsy. He went door to door in various neighborhoods to offer free education on family planning. He stepped up to vaccinate families for the plague, again at no charge, during an outbreak.
Eventually, Hosalkar made his way to London and the United States to further hone his professional experience. Now he lives in Scripps Ranch with his wife and two children.
At 43, he feels fortunate to give back in two main ways: as a surgeon and as a mentor.
Hosalkar travels to India twice a year, for 10 to 14 days each time, so he can perform orthopedic surgeries at no cost to patients chosen by his charitable partners. He typically does procedures to preserve ailing joints, reconstruct limbs, address issues related to cerebral palsy and lengthen limbs for people with lopsided arms or legs.
During these trips, he holds lectures and workshops for medical students and less experienced physicians.
Back in San Diego, he enjoys teaching the young surgeons in his ongoing fellowship program. If a trainee lacks housing, he's been known to let that person live in his home for months.
Hosalkar also uses Skype, FaceTime and email to extend charitable services to his affiliates in India, from reading radiologic images to consulting on complex cases.
In about a decade, once his children have enrolled in college, Hosalkar intends to limit his practice to three days per week so he can increase his charitable activities.
"I'm thankful for the medical skills that I possess, and I look forward to rehabilitating more people so they can regain full-functioning lives again," he said. "What I've been able to do is just a start."
For more information visit shar.es/1cfSWc